Mi Toxin Binder
I am recovering from mold exposure and love this binder. My naturopath said it contained all the ingredients she would want in a mold binder. Thanks for creating the perfect mold binder!
Nora M.
Regular price
Sale price
$39.95 USD
Unit price
per
Sale
Sold out
Quality binder for daily detox support!

Most of us have trouble detoxing effectively, resulting in symptoms such as:
Brain fog

Weakness/fatigue

Headaches

Low energy

Frequent colds and flus
Move beyond basic, and choose a binder that supports your whole body
:
Gently assists your body's detox processes

Promotes cellular energy

Promotes bile movement and normal bowel movements
Why I Created Mi Toxin Binder: from Bridgit
"I formulated this binder because I wanted a binder especially designed for toxic mold illness. Mi Toxin Binder targets every category of mycotoxins while also moving and capturing the bile, soothing the gut, lowering inflammation, moving the bowels and protecting cellular energy!"
Nervous about side effects? Sometimes side effects arise as part of your healing journey. Learn to avoid and diminish them with Bridgit's guide: Click here to access! 
*Always ask your physician before starting this or any protocol. The information on this page does not serve as medical advice.
Ingredients

Mi Toxin Binder Supplement Facts
Serving Size: 1 capsule
Servings Per Container: 60

Ingredients: Activated coconut charcoal powder (200 mg), Aloe vera powder (75 mg), Modified citrus pectin (75 mg), Fulvic acid (from Shilajit extract) (75 mg), Glucomannan (Konjac root powder) (75 mg), Zeolite clinoptilolite (75 mg), Organic rhubarb root powder (50 mg), Artichoke leaf extract 5% total caffeoylquinic acids (50 mg)
Other Ingredients: Cellulose (capsule), magnesium stearate

Allergen information: This product is vegan, gluten-free, dairy-free, peanut-free, non-GMO, soy-free, and caffeine-free.
Directions

Mi Toxin Binder Suggested Usage
We recommend taking two capsules a day. Make sure you take your binder with a full glass of water and at least 1 hour away from food and other medications, as this binder can also bind to the nutrients in your food. For example, you could take one capsule in mid-morning and another at bedtime.

Mi Toxin Binder Storage
Store in a cool, dry place, and avoid excess heat. Keep out of reach of children.

___
Not recommended during pregnancy or nursing without consulting your health care provider prior to use. Safety sealed for your protection. Keep bottle capped at all times and store in a cool dry place. Natural separation may occur. This does not affect product quality.
Share
Customer Reviews
Write a Review
Ask a Question
11/25/2023
Constance K.

United States
Mi Toxin Binder is CRITICAL for my healing journey from mycotoxins & tickborne illesses!
The Mi Toxin Binder along with my Functional Medicine doctor's recommendations for pre-, pro-, and post-biotics have shown TREMENDOUS results in detoxing me from mycotoxin infections, along with Lyme-Bartonella-Babesia pathogens. I don't dare miss my binders! They're an essential part of my long healing journey…finally after over 4 decades of being ill!!
11/21/2023
Anonymous

United States
Great
So far I really like this, thank you!
11/09/2023
Valarie Y.

United States
Mold detox binder
I am detoxing from mold (finalized my mold remediation) and have used other binders. I really like this one b/c it has all of the binders in one and no matter what type of mold I encounter, this should help them all. I have the HLA-DR mold gene so mold detox will be a part of my life always as it's impossible to avoid exposure 100% outside of my home. It also has the aloe vera to help avoid constipation which the charcoal and benzoate clay can cause. So far, it's worked really well for my mold detox protocol.
11/07/2023
Tamara S.

United States
Works great, my son loves it!
This has been so helpful in detoxing on our mold recovery journey. We love that it promotes elimination rather than hinders, my son takes it daily or has gut issues. Thanks for such a great product!
09/01/2023
Anonymous

United States
I love this product
I have tried so many different binders and they have all constipated me, even in very small amounts. This is the first one that hasn't, and it actually seemed to improve my digestion!
02/20/2023
Anonymous

United States
Great Product
Really like the product..I am now having 2 bowl movements per day after taking the product..Before I had once a day..I take one capsule in am and one capsule in pm. Thank you for developing the product.
02/22/2023
Functional Detox Products
Thank you so much for your positive feedback! We're glad that you liked our Mi Toxin Binder. :)
02/06/2023
Danette B.

United States
Worked Wonders!
I started this product hoping it would help me with all around toxin overload. What I didn't know is that it would actually help my brain fog and energy levels come back from the dead! I'll keep this as a staple in my routine for when it's needed!
02/22/2023
Functional Detox Products
Thank you so much for your positive feedback! We're happy to know that Mi Toxin Binder helped with your overall wellness! :)
01/11/2023
Helen N.

United States
Re mold exposure
I heard a lecture by Bridget Danner on her summit last year talking about mold exposure. I've been taking another binder for about a year and when I heard about this product I got extremely excited because it incorporated all of the elements that I had been learning about. I've been taking Mi toxin binder for about a year. I ran out last summer and during that time was re-exposed to mold and was suffering with extreme dizziness. I promptly ordered more product got back on it and have been feeling much better ever since. I just ordered a three pack so hopefully I will not run out again!! Two thumbs up, five stars, highly recommended!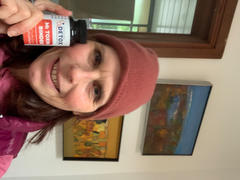 01/17/2023
Functional Detox Products
Thank you so much! We're happy to know that the binder is helping you feel better from mold toxicity. :)
Mi Toxin Binder
This binder is great! We have had multiple issues with mold in our house, but we've never tested for which kind, so having a broad spectrum binder is perfect for my situation. I have been taking 2 capsules right before bed and I am starting to feel so much better. I don't feel so awful and my ability to function during the day has improved.