GI-MAP Test with Review
Regular price
$547.00 USD
Regular price
Sale price
$547.00 USD
Unit price
per
Sale
Sold out
Find out What's in Your Gut and Get Relief!
We are offering a GI-MAP test with a 30-minute interpretation as an a la carte service. You can see your results and have them professionally analyzed all for a great price.
What Does the GI-MAP Test Package Include?
a GI-MAP test kit

a 30-minute test analysis with coach Micki (Read her bio HERE.)
supplement recommendations based on your test results


a coupon code toward supplements in our shop
Location Restrictions
If you want to ship outside of the US, please fill out this form here and do NOT purchase through this page. 
What Does the GI-MAP Test For?
Parasite and worm infections

Candida and H. pylori infections

Bacterial health of the large intestine

Markers of pancreatic health (enzymes) and fat digestion

Marker of beta-glucuronidase (marker of estrogen and phase 2 liver detox)

Zonulin* (marker of leaky gut and leaky brain) *additional cost: please select this option above
To learn how the GI-MAP compares to other gut testing, visit this blog or check out this methodology guide from the lab.

To learn about Bridgit's favorite testing markers in the GI-MAP, visit this blog.
To view a sample report, click here.
Who Is This For?
This test can be run by men or women, and there is no upper age limit to run this test.
This test is a great idea for anyone struggling with:

Autoimmunity

Chronic digestive complaints

Chronic inflammation

Mood and hormonal issues

What Is the Timeframe?
Once you place your order, we will ship your test kit to you. Once you run your test, expect about a month turnaround time before the results are back and you can schedule with your coach.

How Does This Compare to Other Gut Testing?
To learn more about this, view Bridgit's video here, or click on this text to visit the blog.

What Is the Zonulin Optional Addition?
The zonulin marker assesses for hyperpermeability in the gut lining. The lining of the gut is composed of a single layer of cells that are held together by something called tight junctions. These tight junctions are meant to be able to open and close based upon the needs of the system at any particular time. Zonulin regulates the opening of the tight junctions. While this is desirable at times, certain types of infections and gliadin (the oft-problematic protein in gluten) can upregulate zonulin and create chronic intestinal hyperpermeability (aka leaky gut).

While the GI Map does test for the anti-gliadin antibody (associated with non-celiac gluten sensitivity) this part of the test can sometimes return negative even if leaky gut is present. So the zonulin add-on is useful to see if grains could be causing a leaky gut.

Zonulin may also be suggestive of a leaky brain beyond just a leaky gut. Bridgit thinks it's a great marker. (Read more on GI-MAP gut health markers here.)

What Are the Preparation Instructions?
Please click on this text to see the preparation and shipping instructions from the lab.
Please click on this text to see the additional recommendations from our coaches.

Do You Take Insurance?
We are health coaches and cannot bill insurance or provide you with specific documents to submit to your insurance. (We do provide you with a transaction receipt, but these receipts are not recognized by many insurance companies.) However, if you have a Health Savings Account (HSA) credit card, you may be able to purchase this service on that card if coaching and testing are allowed. If you have trouble getting your HSA card to work on our site, we can send a PayPal bill instead.

Can We Review Other Lab Results at the Same Time?
We do not review any past labs unless you have purchased the same lab from Hormone Detox Shop in the past (i.e., it's a retest). If you would like us to review other labs, we are happy to do that. That is included in a Past Labs Review, and you have the choice to review 1-3 or 4-6 labs. Please make that purchase at the link above, and you will receive an email letting you know how to upload those documents and schedule that appointment.

If you are not interested in that option but want to see how these new results compare to results from a past lab with another practitioner, that will be easy to do if it's the same lab testing company. You will easily be able to compare a past GI-MAP with a new GI-MAP, for example, to see what's changed. Your Hormone Detox coach will interpret your current results and give you a plan that fits your current situation. You are welcome to verbally share with your coach, "my zonulin has come way down since my last test," but ultimately it doesn't affect your current plan.
Nervous about side effects? Sometimes side effects arise as part of your healing journey. Learn to avoid and diminish side effects with Bridgit's guide: Managing the Side Effects of Change. Click here to access! 
*Always ask your physician before starting this or any supplement protocol. The information on this page does not serve as medical advice.
Share
Customer Reviews
Write a Review
Ask a Question
05/06/2022
Anonymous

United States
GI MAP TEST & Consultation
I had a wonderful and enlightening experience with Micki Contini last month. I have been working with doctors for the past two years and they couldn't find out what was wrong with me within one test the GI Map test I found out I had kinds of issues. I spoke with Micki and she explained there were two bacterias that were causing the bloating and gas. I had other things confirmed as well that I had a feeling was the problem like my digestive issues. Micki explained everything I needed to know during our consultation and I felt so excited to start my program with the Hormone Detox Shop. If you are ever feeling like you need answers and conventional doctors aren't understanding you or helping, take this GI Map test. It was very helpful. Thank you team Hormone Detox Shop!
04/01/2022
Brooke B.

United States
Such a blessing!
The process went smooth and I am so happy to have found Bridgit and her team! I have a lot of knowledge because been in natural health for over 15 years after doctors left me hopeless after EBV/CFS. This test has revealed so many needed answers and having my consult with Micki was helpful to get a protocol going to get my gut healed! (Some items had already bought too!) Doing the mycotoxins test next because grew up with some mold in house we just recently found out was toxin black mold. (It's now been dealt with Bc selling after our Dad went to be with the Lord). Love all the summits and info, please keep them coming! God bless y'all.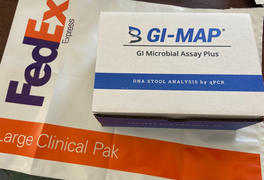 02/02/2022
Marilee

United States
GI map test results review with Coach Micki
Fabulous! Micki was very knowledgeable, kind, and patient with all my questions. I highly recommend her!
06/15/2021
Arista H.

United States
GI Map Review
OMG!!! It has been a TOTAL BLESSING to have come across Bridget's site. I am so thankful to Jesus Christ, because this WAS NOT by chance but much prayer for revelation on what was going on in my body. Micki has been an angel sent from heaven. I was so thankful for how she encouraged me concerning the GI Map test, during my thyroid review. She assured me that that test would hold many keys to unlocking answers in regards to the autoimmunity I have been experiencing; thankfully, it did. Micki's reassurance was VERY encouraging, and she was so nice and kind, while putting me at ease. Thank you, Micki, for ALL you do. Keep up the GREAT work!!!
05/31/2021
Anonymous

United States
G.I. MAP Test with Add On Zonulin with Review
I got the above test as I have been very sick (suspect mold & candida). I will be doing the mold/OAT testing very soon. But I am so very thankful for Bridgit and her team offering not only high quality Functional Medicine labs through some of the best specialty labs in the USA, but that you don't have to waste hundreds FIRST to see a Dr that may or may not be able to help you as many of us that are sick, like myself are too sick to work. Seeing a dr right away may be coat prohibitive. I don't have my actual report yet, thus haven't had my coaching session, so I will update when I do. But this test is the best in the industry for GI Issues from what i have heard and read. I looked at the sample report and it is jam packed with HIGHLY DETAILED Information about most GI things INCLUDING an Add On ZONULIN Marker to confirm "Leaky Gut." As far as the COQ10 goes, I am waiting until I do 1 more test before I start that but wanted to grab it while it was half off with a promo code. The test kit came with everything needed, including lab slip, container to catch your sample, container to put your sample, and very detailed instructions. I have had questions along the way and emailed back and forth with this team. Replies are always timely, full of information, friendly, and professional. They are changing and SAVING LIVES, by offering these services!! I have been spreading the word in the Functional Medicine/Natural Groups I am in, when asked about my testing (mostly Mold/Toxicitu/CIRS/Lymes, etc kind of groups). I first heard Bridgit speak on the Toxic Mold Summit (she herself has battled mold). Since then, I have heard her speak on other Docuseries. I am truly eternally grateful and now HOPEFUL that I will have much needed information to get to the root cause of my extreme constipation issues. Can't internally detox until GI/LIVER/GALLBLADDER, etc is working properly. She has so many FREE GUIDES and emails with a wealth of information on a variety of topics including recovering from Mold, Starting New Supplements, and more! VERY KNOWLEDGEABLE and you can tell that she lives out what she teaches and has a huge heart to see others helped & healed♡ Ty from the bottom of my heart♡
04/10/2021
Anonymous

United States
GI MAP Test
I was so excited to come across Bridget's site. I have known about the importance of GIT health but had no idea such a test existed to determine how to achieve this health. I am very thankful for this test and glad to know it has helped many people get their health back.
12/16/2020
Kelci B.

United States
Great Results!
The test was quick, easy, and had results pretty fast. So many things showed up! Micki helped me interpret the results and make a plan to get my stomach straightened out. Currently on week 4 of the protocol, and there is already a HUGE difference. My digestion has taken a full turnaround and I'm able to live normally without thinking of bathroom visits. So grateful for this test and Micki's help!!
08/17/2020
Anonymous

United States
GI Map Test
The kit was easy and customer service was great. I was able to get a live person quickly on the phone when I had a question. Bridget had her own set of instructions in preparation for the test and answered any questions separately that I had regarding what supplements and foods to avoid. You can schedule Fedex to pick up your sample but it was too convoluted to get a person on the phone. I found it easier to just drop it off at a center. The test is valid if your sample arrives within 6 days of doing the kit. I did my test on a Friday and Fedex said it would arrive on Tuesday. If I had to do it over again, I would shoot to do it on a Monday so it gets to them sooner and so I would have greater peace of mind. Now I just have to wait for the results to schedule my review. I think it will be helpful to get a baseline and to know what steps I can take to improve my health.
08/13/2020
Anonymous

United States
Fantastic!
GI testing was easy and customer support was very friendly and responsive with all my questions!
The Most Effective Detox Agents

Detox has become essential in modern life- we've done all the research for you!

Support Cellular Health

Energy is made by the mitochondria inside your cells- give them what they need!

Powerhouse Nutrients & Herbs

Our vitamin, mineral and herbal formulas are formulated to be absorbed and get results!

Gut Reconditioning

Health begins in the gut. With our targeted, clinical supplements, you can restore gut health!