GI Detox Capsules
Regular price
Sale price
$33.00 USD
Unit price
per
Sale
Sold out
Benefits of Toxin Binders
G.I. Detox is a new supplement designed to help clear toxins (such as LPS [Lipopolysaccharides], heavy metals, and metabolites of yeast, mold or bacteria) and other unwanted debris from the body.
While it's always important to be cleaning out your system, taking a binding agent like G.I. Detox is especially crucial when you're in the process of healing your gut. Gut-healing protocols can stir up the toxins in your system at first, causing a die-off (or Herxheimer) reaction. By taking a binder like G.I. Detox, you help escort the offenders out of your body quickly, helping you feel better, faster.
G.I. Detox is also a powerful supplement to take for general detoxing, or while using a sauna.
Why I Love GI Detox: from Bridgit
"Honestly at first I didn't get binders. I couldn't feel anything. Binders just help move things out so, unless you have a horrible stomach flu, they can be hard to notice. But know that these little 'garbage men' are taking out the trash so toxins don't re-circulate after you get them mobilized. GI Detox is a blend of binders to remove heavy metals, and metabolites of yeast, mold or bacteria and other unwanted debris from the body in a convenient pill form."
Nervous about side effects? Sometimes side effects arise as part of your healing journey. Learn to avoid and diminish them with Bridgit's guide: Click here to access! 
*Always ask your physician before starting this or any supplement protocol. The information on this page does not serve as medical advice.
Ingredients

GI Detox Supplement Facts

GI Detox includes:
Zeolite Clay - Chelating and binding agent to assist in removal of toxins and heavy metals. Tested for purity and sourced from within the US.

Activated Charcoal - Sourced from bamboo, it assists in binding and absorbing a variety of organic and inorganic compounds.

Aloe Vera Extract - This anti-inflammatory inner leaf material assists in bowel motility, and promotes healing

MMST Silica - Another well known chelating agent to assist in binding toxins and metals. Ours is bound to Acacia Gum to convert easily into orthosilicic acid (OSA) for enhanced bioavailability.
Apple Pectin - Another excellent chelating agent, with a broad affinity for various biotoxins.

Humic and Fulvic acids - With a broad range of benefits, these natural soil-based agents are known for binding metals and pesticide biotoxins.
Serving Size: 1 capsule
Servings Per Container: 60

Ingredients: Proprietary Herbal Blend: Zeolite clay, Activated Charcoal, Aloe Vera, MMST Silica, Apple Pectin, Humic / Fulvic Acid.

Other ingredients: VegiCap (Hydroxypropyl methylcellulose and water)

Allergen information: This product is made without dairy, gluten, soy, corn, animal products, artificial coloring or flavoring.
Directions

GI Detox Suggested Use
Take 1-2 capsules on an empty stomach with a full glass of water. As this is a powerful binder, take at least 1 hour apart from other medications and supplements, such as between meals or when getting up or going to bed. While on a detox protocol, complete about twice a day. If you are using this with a detox practice such as an enema or sauna, take a dose right before you begin.

Binders are a great way to remove toxins while you are doing detox protocols. If you plan to take binders daily long-term (over 3 months), as part of a detox protocol, it is best to rotate which binders you are using. You can also check out our Pectasol C pectin binder, and look at our blog below for more options.

To learn more about different types of binders, see this blog for an overview, or this blog for GI Detox vs. Mega IgG.

Caution: Binders are not recommended for use during pregnancy or nursing, so please consult with your healthcare professional prior to use. This product is not intended as a treatment for accidental poisoning.

GI Detox Storage
Store in a cool, dry place, and avoid excess heat. Keep out of reach of children.

GI Detox FAQ
Does the pyrophyllite clay in the G.I. Detox product contain aluminum in its chemical structure?
Yes, because that is how clays are formed. Some other common clays containing aluminum are bentonite, kaolinite, and montmorillonite clays. In fact, every single clay on Earth has a chemical "backbone" of heavy metal minerals in its structure. The chemical structure of clays attracts heavy metals to the clay, and does not leach them out. This is why clays are used in industry (and traditional healing practices) as binding agents. It is impossible for a human digestive tract to free the aluminum from the pyrophyllite clay, so there is no risk of aluminum absorption into the body. Our pyrophyllite clay is rigorously tested for any impurity by a third party, prior to inclusion in G.I. Detox capsules at a cGMP facility.
Share
Customer Reviews
Write a Review
Ask a Question
11/19/2023
Carrie S.

United States
No complications from GI Detox
So far, I notice no side effects at all (take in the middle of the night). Will test soon to see if my heavy metal level has dropped
02/28/2023
Anonymous

United States
Internal reset
Fast delivery. Feels like my body is getting an internal reset. Easy to take first thing in the morning before my organic, decaf coffee; no negative side effects.
11/18/2022
Anonymous

United States
GI Detox
Great experience buying but I do like MiToxin better - works better. Both are good.
02/20/2022
Carmen S.

United States
not my thang
For removal of toxins I most often use Chlorella. My body gets relief, no gas, and breathing and allergy symptoms nearly gone once activated. Apparently charcoal is mainly for the gut??? Not sure, but dang, I do not enjoy the discomfort it always causes in my stomach. Painful gas, almost always. My experience.
12/11/2021
Anonymous

United States
GI detox
I had used GI detox when I was dealing with mold toxicity a couple of years ago but had stopped using it. The last few months my labs have shown an increase in my viral load so I was started on it again but due to supply issues I was unable to order it from any of the many supplement companies I've ordered from, instead of going with another product that was recommended to me I by chance found it available on your website, I feel more comfortable using products I'm familiar with. I was happy to find it in stock, so I bought 6 bottles! Your shipping & delivery time was great & I can continue staying healthy again. Thanks for being there in my time of need.
07/23/2021
Anonymous

United States
Detoxing
I have been using this GI detox for about fifty days and know that it is working. With mold, heavy metal and fungal issues to detox I think I will be using this product for years. Glad that I found it.
04/25/2021
Anonymous

United States
GI Detox a real plus!
Worked well to detox without any adverse effects
03/15/2021
Amy H.

United States
Great ingredients!
I'm so glad to have these healthy ingredients in one capsule to help me detox. The best!
03/10/2021
Taylor C.

United States
Amazed
I started the AIP diet and felt like I was dieing from die off symptoms. Daily headache, body aches and so on. I started taking these the day I recieved them. By the end of the next day almost all of ym symptoms were gone and there is NO way it was a coincidence as it did the same for my son. Ill FOR SURE always have a bottle of these in my cupboard.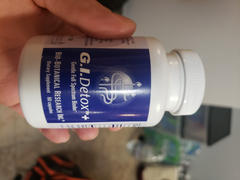 The Most Effective Detox Agents

Detox has become essential in modern life- we've done all the research for you!

Support Cellular Health

Energy is made by the mitochondria inside your cells- give them what they need!

Powerhouse Nutrients & Herbs

Our vitamin, mineral and herbal formulas are formulated to be absorbed and get results!

Gut Reconditioning

Health begins in the gut. With our targeted, clinical supplements, you can restore gut health!