ACG Glutathione Spray, 2 oz
Regular price
Sale price
$39.95 USD
Unit price
per
Sale
Sold out
The King of Antioxidants
Neutralizing free radicals and reactive oxygen compounds, increased glutathione enhances every system of the body, including the immune system and metabolism; optimizing health and energy levels.
Remarkable Efficacy
A major advancement in Glutathione supplementation. ACG Glutathione Extra Strength is an intra-oral spray GSH that tastes great and has been proven by an independent clinical research firm to effectively increase intracellular levels of GSH by over 10% in only 7 hours.
Epidemic Glutathione Deficiency
"There is an epidemic deficiency of glutathione in patients today. In fact, glutathione deficiency is found in almost all chronically ill patients."
Charles M. Scott, M.D.
Glutathione is Critical
Glutathione (GSH) is one of the most critical molecules of the entire body. As the most important intracellular antioxidant, GSH regulates all other antioxidants while preventing damage to important cellular components caused by reactive oxygen species, such as free radicals and peroxides.
The Leading Glutathione
Extensive research confirms that supplementation of Glutathione is a crucial requirement for superior health, effective treatment and prevention of disease. ACG glutathione now makes oral supplementing possible.
Superior Results
The ability to effectively supplement GSH will be life-changing for your patients as they realize the substantial health benefits of optimizing GSH levels and minimizing oxidative stress levels; all with a simple intra-oral spray protocol.
Instant Bioavailability
The significant efficacy of ACG Glutathione Extra Strength is achieved by atomized oral spray delivery and the instant bioavailability of key molecules at the cellular level.
Advanced Cellular Technology
Pill and capsule Glutathione supplements are ineffective as the Glutathione is destroyed during the digestion process. ACG Glutathione delivers the power of each ingredient in the most effective manner possible; achieving maximum results without stomach discomfort or side effects.* ACG Glutathione is immediately absorbed, simple to take, and has a pleasant taste. Just spray, swish, and swallow.
Why I Love ACG Glutathione Spray: from Bridgit
"There are a lot of spendy, sticky glutathione supplements out there! Why I love ACG Glutathione Spray is that it's a super convenient, affordable spray. Since it bypasses the digestive system ACG Glutathione Spray gets absorbed much quicker than the standard glutathione capsule. Use daily to raise and maintain healthy levels of this most important antioxidant."
Why Glutathione (GHS) Is Critical in Many Cellular Interactions

GSH reacts with various physiological metabolites such as, estrogen, prostaglandins, leukotrienes, and chemicals, such as bromobenzene and counteracts acetaminophen overdose

GSH interacts with Nitric oxide and both have critical roles regulating lipids, glucose, and amino acid utilization

GSH is involved with the removal of the carcinogen, Formaldehyde, from the body

GSH is required for the prostaglandin H2 pathways

GSH inhibits Influenza virus infection

GSH is involved in many other important metabolic pathways, including protein metabolism

GSH is required for the proliferation of cells, including lymphocytes and intestinal epithelial cells

GSH plays an important role in spermatogenesis and sperm maturation

GSH is essential for the activation of T-lymphocytes and polymorphonuclear leukocytes, and is required for cytokine production. GSH is important for successful immune responses when the host is immunologically challenged

GSH is involved in the process of maintaining Vitamin C and E in the active metabolic forms
Nervous about side effects? Sometimes side effects arise as part of your healing journey. Learn to avoid and diminish them with Bridgit's guide: Click here to access! 
*Always ask your physician before starting this or any supplement protocol. The information on this page does not serve as medical advice.

Ingredients

Ultra-Pure Deionized Water, S-Acetyl-L-Glutathione, Acetyl L-Carnitine, L-Glutamine, L-Glutathione Tripeptides (Reduced), Lipoic Acid (R-Fraction), TMG (trimethylglycine).

Other Ingredients: Organic Peppermint (leaves) (Mentha x piperita), Ag
Directions

Standard Dose
• Take 6 sprays by mouth, twice daily.

Higher Dose
• Take 12 sprays by mouth, twice daily.

Optimal Use
• Spray and swallow. You may take other Results RNA formulas immediately.
• Do not eat or drink for 2 minutes following.
• Take as recommended by your physician.
• Take twice daily to maintain optimal health.
Video

https://www.youtube.com/watch?v=FaFXEMDvoao
Share
Customer Reviews
Write a Review
Ask a Question
05/22/2022
Anonymous

United States
Glutathione spray
I appreciated finding a glutathione spray available to use for the family that didn't have any added ingredients that you can easily vary the mg and works great!
08/28/2020
Patricia H.

United States
Great product
This Glutathione is very easy to use and has no unpleasant taste.
06/16/2020
Anonymous

United States
Great product!
My husband and I both struggle with autoimmune disorders so we started taking this. We need to be better about remembering to take it every day, however summer is especially difficult for him n he often becomes quite ill in the heat n as he's been taking this pretty often he's been able to function every day this summer so far! Really thinking it's helping us heal!!!!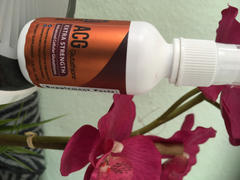 06/06/2020
Anonymous

United States
ACG Glutathione Spray
This is an easy and effective product. Hormone detox has some great information and products. I enjoy learning from Bridget.
05/30/2020
Ann C.

United States
Great Delivery System
I feel good using this product so it must be working! Glutathione is golden nectar for the liver.
05/21/2020
Annette W.

United States
ACG Glutathione
Love this product. The spray is a quick and easy way to take this supplement and the peppermint flavor is very pleasant.
The Most Effective Detox Agents

Detox has become essential in modern life- we've done all the research for you!

Support Cellular Health

Energy is made by the mitochondria inside your cells- give them what they need!

Powerhouse Nutrients & Herbs

Our vitamin, mineral and herbal formulas are formulated to be absorbed and get results!

Gut Reconditioning

Health begins in the gut. With our targeted, clinical supplements, you can restore gut health!